The world of Toriko is home to a wide and diverse assortment of powerful, unusual or ordinary animals usually referred to as "Beasts". Most beasts resemble our world's animals, however some may be a cross between several regular species or they may be something completely different from anything in our world. Their Capture Levels depend on their strength and difficulty to locate and subdue. Level 1 has been described as requiring a group of ten real world professional hunters with shotguns to take it down (however as the series has progressed this detail appears to have become forgotten or was simply an exaggeration).
Order by Type
Edit
Mammal Beast
Edit
Mollusk Beast
Edit
Insect Beast
Edit
Fish Beast
Edit
Crustacean Beast
Edit
Cnidarian Beast
Edit
Amphibian Beast
Edit
Bird Beast
Edit
Plant Beast
Edit
Reptile Beast
Edit
Dragon Beast
Edit
Demon Beast
Edit
Phantom Beast
Edit
Behemoth Beast
Edit
Mixed Breed
Edit
Unnamed Beasts
Edit
Human World
Edit
Baron Archipelago
Edit
Regal Island
Edit
Wak Continent
Edit
Gourmet World
Edit
Ordinary Beasts
Edit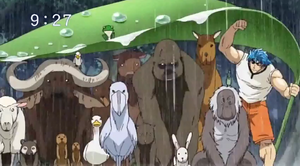 Numerous real world animals have appeared in the Toriko anime and occasionally in the manga where they are usually just mentioned in passing and rarely appear physically, however it is clear that they are weaker and less tasty when compared to the other beasts found in the world of Toriko and are considered less impressive by the general populace of the world. Overall in terms of strength they are all likely less than Capture Level 1 or 2 as the strength of even the strongest of these animals does not require no more than 8 or 10 hunters. The only place where at least a few of these creatures have been confirmed to exist in numbers is near Zongeh's homeland. In the anime it has also been shown that a large number of these creatures (both exotic and regular) reside in the area near Toriko's Sweet House, this may imply that unlike in the real world these animals can survive together in the same ecosystem, despite that in the real world they live far from each other in completely different environments.
Below is a list of all the real world creatures seen or mentioned in Toriko.
Community content is available under
CC-BY-SA
unless otherwise noted.