Biotope 3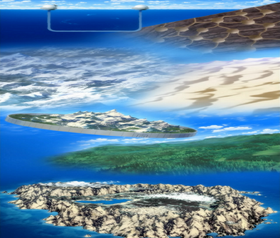 Name
Information
Debut Appearance
[

v

 · 

t

 · 

e

]
Biotope 3 is one of the IGO's eight Biotopes; artificial habitats used for cultivating and harvesting rare plants and dangerous beasts.
Little is known about Biotope 3 other than it used to house one of Ichiryu's Full Course Menu ingredients.
Beasts and Ingredients
[
]
History
[
]
Toriko and Coco paid a visit to each of the IGO Biotopes which held the ingredients from Ichiryu's Full Course. Although it was not shown, they successfully captured the ingredients from each Biotope, including Biotope 3.
[

]
IGO

Board of Committee

Mansam

(President)

•

Rin

(Gourmet Research Chief)

•

Ray

(Defense Bureau Director)

•

Johannes

(Food Development Department Chief)

Gourmet Seven

Patch

•

Apalon

•

Kitt

•

Painomi

Employees & Others

Elboh

•

Giraffebirds

•

Hana

•

Komatsu

•

Komorou

•

Marilyn

•

Macher

•

Morton

•

Rikky

•

Smith

•

Toru

Former Members

Ichiryu

(President, deceased)

•

Shigematsu

(Vice President, defected)

•

Uumen Umeda

(Director, defected)

•

Wyne

(Director, deceased)

•

Glass

(Director, deceased)

•

Bull

(Director, deceased)

•

Naroid

(Director, deceased)

•

Thor

(Police Captain, deceased)

•

Nomarch

(G7, defected)

•

Toppo

(G7, defected)

•

Ahmon

(G7, defected)

Biotopes

1

•

2

•

3

•

4

•

5

•

6

•

7

•

8

•

0

(unofficial)

Other Facilities

IGO Headquarters

•

IGO Bureau of Defense Management

•

18th Barrier

•

Three Great Gourmet Prisons

•

Surprise Island

•

Gourmet Coliseum

•

Gourmet Research Laboratory

Related Articles

Gourmet Summit

•

Gourmet Tax

•

Eight Gourmet Laws

•

IGO Chef Ranking

•

Gourmet Police

•

Gourmet Security Guards