The Company Gourdarake is a large high-earning shipping industry owned by the wealthy Colonel Mokkoi. The company has an annual income of more than 20 trillion yen.
Description
Edit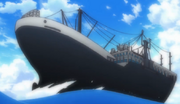 The company earns its income in shipping and delivering ingredients to consumer markets, and appears to also catch ingredients as well either with the company's privately owned vessels or by hiring Gourmet Hunters. In the anime, the company is also shown to sometimes seek out the aid of skilled Gourmet Fortune Tellers in order to be informed on the location of rare ingredients. In the anime, Company Gourdarake is also shown to deal in the fishing industry, owning large fishing vessels for capturing rare fish, such as the Mermaituna.
BB Corn Arc
Edit
In the anime, the presence of Company Gourdarake is first seen when two of its representatives sought out Coco's help in finding out what ingredient the company should seek out first for a large profit. These representatives held an arrogant sense of self-importance, cutting in line of the rest of Coco's customers believing that their business was more important and that they could easily buy him out. However Coco, shot down their demands and told them to be patient otherwise he would refuse to offer them service. In the end though, Coco still helped the two Gourdarake employees by telling them the location of the Mermaitunas in exchange for a Mermaituna for himself which he planned to give to Komatsu in order to serve it to president Dohem.
Century Soup Arc
Edit
Colonel Mokkoi used his company's vast influence and income to orchestrate a hunting mission to Ice Hell in order to acquire the legendary Century Soup for his comrades in NEO. After hiring dozens of Gourmet Hunters to seek out the Century Soup, he escorted them all to Ice Hell on one of his company's ice breakers. When the mission proved to be a failure, he abandoned the hunters and his search and went to focus on other ingredients to find for Joie.
Cooking Festival Arc
Edit
During the Cooking Festival, NEO officially made its presence known to the world and Colonel Mokkoi along with his comrades disappeared and headed to their base in Gourmet World. It is unknown what became of Company Gourdarake after Mokkoi's departure and the fall of the Meteor Spice.
Community content is available under
CC-BY-SA
unless otherwise noted.