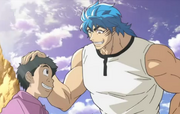 Komatsu is influenced and astonished by Toriko's hunting style and his bravery. Because of this he has followed Toriko on all his adventures believing that his courage and strength will help inspire him to accomplish his dream of becoming the best chef he can be. He first met him while Toriko was hunting a Pincer Fish and was quickly amazed by his monstrous strength and calm persona. He views Toriko as a close friend and treats him like an older brother, seeing him as a guardian and savior of sorts who has saved his life on countless occasions, as such he possesses a great deal respect and admiration for him and will often become highly emotional to the point of crying when he is unable to help the friend and protector who has saved him so many times. He and Toriko have become close friends with one another and formed a strong bond, and have even formed a Bishokuya-Chef Combo and intend to head into the Gourmet World together, believing that together they'll be able to conquer its many trials. He has complete trust in Toriko's abilities, believing that he can make a Full Course Menu that not even Zebra can surpass. Even after learning that they're the same age, he still treats Toriko like his elder due to his vast experience in life and still looks up to him as an older sibling-like figure.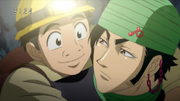 Coco is one of the Four Heavenly Kings. Coco has sadness surrounding his past and believes that people who know about his poison will be driven away or will abuse his power, Komatsu manages to comfort Coco's unease and shows no fear of him despite his poison, because of this they develop a bond of friendship in little time and have remained close friends ever since. Coco is also protective of Komatsu, often worrying about his safety when in dangerous situations and always trying to give Komatsu good advice and fortunes to make sure he leads a proper path.
During his trip with Toriko to Ice Hell, Komatsu came across a lost baby Wall Penguin and helped to keep it safe until they could find its parents. Sadly, however after it was reunited with its parents, the Gourmet Corp. Sous Chef, Tommyrod, brutally killed them and left the poor creature orphaned, however Komatsu decided to adopt the orphaned penguin and keeps it as a pet. Later he named it Yun, after the sound the little penguin makes. During a visit at the Gourmet shrine. Komatsu needed a special ingredient. Seeing how busy he was preparing food Yun decide to find the ingredient he was missing and risked his life protecting it from a beast in the forest. Showing he is willing to go far in order to support Komatsu. Later on during the Cooking Festival Arc, Yun came to rescue Komatsu from danger and takes him to Toriko, showing how devoted he is to his owner.
Sunny is one of the Four Heavenly Kings. After seeing Komatsu's food skills at bringing harmony between ingredients, Sunny respects Komatsu and even almost asked for him to be his partner.
Komatsu has a very friendly relationship with Rin as they get along quite well. Rin address him as Komatsu-kun and when the Kings were arguing who should get the credit for the Madam Fish, she stood up for him saying he was the one who found it.
Melk the Second
Edit
Melk the Second is the daughter and successor of Melk the First and is the greatest knife sharpener in the world. Because of this Komatsu holds her in high regard and considers her a true knife master. When he first met her he was unaware of her true gender and his behavior towards her was like that of a glee-filled fanatic and adored watching her work and chose to stay with her while Toriko went in search of Melk the First. During their time together he managed to find out her true gender (when he accidently ran into her while she was bathing, seeing her naked) and about her past which changed their relationship from one of a fan and his idol to one of deeper and mutual understanding, and he was even able to restore her confidence and remove her insecurities. It is even implied that they may have a crush on each other.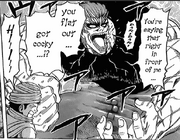 Zebra is one of the Four Heavenly Kings. Komatsu was at first not on good terms with Zebra because of his scary appearance and the extinction of species, but after he learned that they were environment destroying species he came to admire Zebra and his reliability. After Zebra discovers that Komatsu is not only honest but not cocky he asked him to be his partner after his Full Course is completed. Zebra truly enjoys Komatsu's cooking the times he is shown eating it.
He briefly fell in love with warden Love of Honey Prison after he fell victim to her pheromones, which caused him to see her as a buxom beauty in skimpy clothes. After she deactivated her pheromones he once more saw her true form and quickly became disappointed and disturbed by her actions and deceit. Despite this he still addresses her respectfully due to her status as warden and her strength in handling the prison.
Other Chefs
Edit
Komatsu is shown to have a good relationship with almost any other Chef, idolizing those in the IGO Chef Ranking top 100. He shows great respect to such Chef's, and they in turn respect him, and are nearly envious of his easy relationship with the Ingredients. As a result he is capable of getting along even with the legendary Setsuno, the mysterious Chiru, the unruly Livebearer and even the delinquent Brunch.
Komatsu looks up to Setsuno with the utmost of admiration and respect, and views her as his idol and role model and takes her advice and praise to heart. When they first met, she often got annoyed with Komatsu when he addressed her too formally but she has clearly warmed up to him since then and now sees him as a friend and near-equal, calling him a true genius that was able to recreate the Century Soup that she could not and created a method of simplifying specially cooked ingredients. She now has full trust in him and put her faith in his skills when the lives of many were on the line during the Four Beast incident.
Komatsu greatly fears the Gourmet Corp. vice-chef, Starjun and dislikes him heavily for his actions against him and his friends during their time in the 1st Biotope. Despite his fear he was willing to face him when Toriko's life and his cooking knife were on the line despite how terrified he was. In contrast, Starjun appears to admire Komatsu's skills and the quality of his kitchen knives, and believes him to be a fine chef even prior to being ranked in the top 100. When the Gourmet Corp. attack during the Cooking Fest, he interrupts Komatsu's duel with Zaus and grabs Komatsu's arm, saying he came to get him.
Ootake was one of the top 100 Chefs in the IGO ranking but later became part of the Gourmet Corp.. Komatsu and Ootake where childhood friends and together with their other friend Ume they studied to become Chefs together in hopes of making food that would make others happy. Komatsu considered Ootake a real friend, going to his restaurant to congratulate him on his becoming the 99th top chef. He became worried for his safety after discovering his abduction and was heartbroken when Ootake revealed his intention of joining the Gourmet Corp.
References
Edit