Melk Kitchen Knives are the best and most expensive knives in the Human World. They are the standard knives used by the world's very best chefs like Setsuno and Zaus. They had been crafted by Melk the First for decades but are now crafted by his daughter, Melk the Second.
There are a very large assortment of types and specific uses of Melk knives. It has not been revealed just how many varieties of knives Melk manufactures, but all are of the highest quality and fetch a hefty price.

List of known Melk Knives
[
]
The Sentoku Knife (

千得包丁

Sentoku Hōchō) is made from the teeth of the Warner Shark, designed to be an all-rounder. And true to its name, it can be used in the preparation of at least a thousand ingredients. It is considered one of Melk's masterpieces and has a total value of 5,000,000 yen. Even before it has been sharpened, it can easily cut through stone.[1]
The Power Vegetable Cutting Kitchen Knife (

パワー菜切り包丁

Pawā Nakiribōchō) has a rounded blade used for the preparation of vegetables.[2]
By cutting at a fixed speed with Resurrection Cleaver (

蘇生牛刀

Sosei Gyūtō), the Smoke Jellyfish's bad smell disappears.[3]
Black Small Pointed Carver Kitchen Knife (

黒小出刃包丁

Kuro Kodebabōchō) is used for the preparation of Lily Oyster. Its thin end makes it possible to prepare the oyster through a small opening while the shell is still closed, avoiding air contact with the inner content, thus preserving the rich flavor.[4]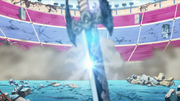 Knives Fixed by Melk
[
]
The knives below are knives that have been repaired or are regularly sharpened by Melk the Second.
References
[
]
[

]