Mitsutoshi Shimabukuro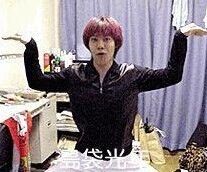 Information
Japanese Name
島袋光年
Birthdate
May 19, 1975
Gender
Male
Occupation
Manga Author
Affiliations
Shōnen Jump, Eichiro Oda
Mitsutoshi Shimabukuro (島袋 光年 Shimabukuro Mitsutoshi, born May 19, 1975 in Okinawa, Japan) is a manga artist and is best known as the creator of Toriko.
Career
[
]

Mitsutoshi Shimabukuro made his debut in 1996 in Weekly Shonen Jump and received a Akatsuka Award for best new comic manga writer with his manga Seikimatsu Leader den Takeshi! (世紀末リーダー伝たけし!, "A Tale of a Leader in the End of the Century Takeshi!") which ran from 1997 till 2002 with 24 volumes in total. Because of the manga's success he won the 2001 Shogakukan Manga Award for children's manga. In 1999 Takeshi received OVA anime special, screened at Jump Festa 1999.

In 2004, he starts a new sports/comedy manga named Ring, which continued for 3 volumes (24 chapters) in Super Jump magazine.
His most recent work is Toriko which began serialization in 2008 and is often known as one of Shōnen Jump's top ten sellers. Toriko was nominated for 2nd Manga Taisho Award 2009. In 2009 Toriko gets OVA anime special at Jump Festa 2009 (Jump Super Anime Tour 2009) and next year gets another anime special screened at Jump Festa 2010. In 2011 Toriko gets double billing 3D movie together with One Piece and in the same year Toriko also gets TV anime.
A Toriko Gaiden was published in 2009, which featured some of the oneshots Shimabukuro made trough the years, including Toriko's oneshot from 2007. The first Toriko oneshot from 2002, was included in Toriko's Gourmet Hunting Book.
On Nikkei Entertainment's 2011 list of most successful manga artists by sales, Shimabukuro was ranked in 14th place. With Toriko having sold 3,492,000 copies since January of 2010.
Personal Life
[
]
Shimabukuro was born in the city of Naha in Okinawa, Japan, but has family in the US state of Arizona. He has also expressed an interest in one day visiting the Grand Canyon, stating that it would be like visiting a location from Dragon Ball.[1] During his career as a manga author, Shimabukuro became good friends with Eichiro Oda the creator of the popular manga series One Piece, and together they made a special crossover special titled One Piece x Toriko: The True Food! Devil Fruit in 2011 which Shimabukuro considered a "really fun experience".[1]
Shimabukuro around 2006
Shimabukuro's avatar, a "chibi" version of himself with messy hair and a big grin
Shimabukuro explaining his inspiration for Toriko
Eiichiro Oda
speaking about
Toriko
and his friendship with Shimabukuro
During an interview with Weekly Shonen Jump Alpha, Shimabukuro revealed his own real life Full Course Menu.[1]
Shimabukuro's Full Course Menu
Course
Ingredient
Capture Level
Status
Hors d'Oeuvre
Tofu
None
Decided
Soup
Shark Fin Soup
None
Decided
Fish Dish
Tuna
None
Decided
Meat Dish
Chicken
None
Decided
Main Course
Cold Soba
None
Decided
Salad
Celery
None
Decided
Dessert
Peach
None
Decided
Drink
Beer
None
Decided
Art Style
[
]
Shimabukuro has showcased and demonstrated his sketches and art skills in videos and at public conventions.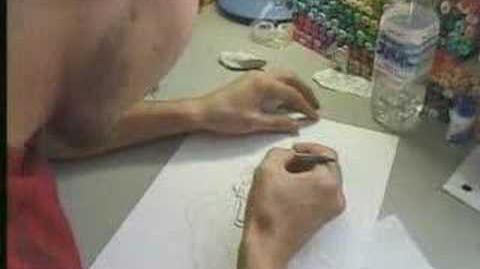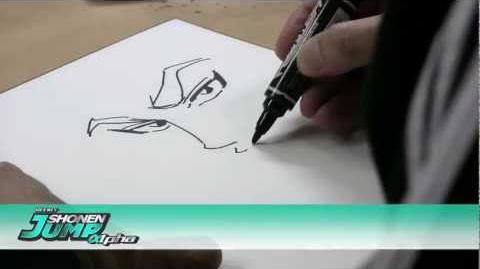 Contributions
[
]
In 2007, Shimabukuro contributed together, with other manga artists for One Piece 10th Treasures with an art for the 10th Anniversary of One Piece.
In 2010, together with other authors, Shimabukuro contributed art for Naruto's 10th Anniversary.
In 2012, he and other authors contributed in the 25th Anniversary of Jojo's Bizarre Adventure.
In the beginning of 2013, Shimakuburo and other authors drew a contribution for Jump 45th Anniversary, celebrated in Issue 2013-06-07. In another contribution in April for Jump 45th, he and other authors drew 1 panel crossover with other Jump series. Shimaburuko drew Toriko visiting the world of Isobe Isobee Monogatari ~Ukiyo wa Tsurai yo~ manga.
Trivia
[
]
He ranked 20th in his own first Toriko character Popularity Poll with 50 votes.
Shimabukuro stated in an interview for Weekly Shonen Jump Alpha that if Toriko was friends with another Jump hero, it would be Goku from the Dragon Ball franchise.[1]
Shimabukuro has expressed an interest in owning a Butt Bug plushy should one ever be made.
References
[
]