Toriko
Information
Title:
Toriko (トリコ)
Animation Work by:
Toei Animation
Original Run:
April 3, 2011 – March 30, 2014
Episodes:
147
Genre:
Action, Adventure, Fantasy, Comedy
Toriko is a TV anime produced by Toei Animation based on the manga of the same name. It premiered on April 3, 2011 and consistently aired on Sundays before its sibling program One Piece. The anime currently has two specials, two OVAs, and a film, titled Toriko 3D Movie: Kaimaku! Gourmet Adventure!! that was released on March 19, .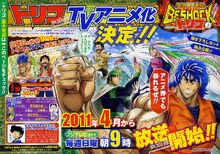 Toei Animation is in charge of the series' production and most of the production staff on the anime are the same as those for One Piece. Akifumi Zako is anime series' director. The anime's pilot was an OVA simply titled Toriko Jump Special, which covers the first two chapters of the manga (although slightly shortened) which aired on October 12, 2009. The anime's TV premiere was shown on April 2, 2011 as a 1 hour 2-part special crossover which featured characters from its sibling program One Piece, the first part being the first episode of Toriko and the second part being the 492nd episode of One Piece.
Censorship
[
]
The anime initally downplayed much of the violence seen in the manga, completely erasing any blood from tense battles such as Toriko vs. Starjun's GT Robo and Toriko vs Tommyrod. However, starting with the Four Beast Arc, the censorship began to lessen with the Four Heavenly Kings injuries being shown with blood and other effects at the end of the fight.
External Links
[
]
See also
[
]