Welcome to the Toriko Encyclopedia!
Introduction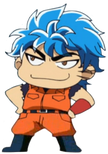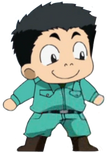 In a savage world ruled by the pursuit of the most delicious foods, it's either eat or be eaten! This is the great era of gourmet food!
While searching for the tastiest foods imaginable, Gourmet Hunter Toriko travels the world with his bottomless stomach. And only Toriko can hunt down the ferocious ingredients that supply the world's best restaurants.
As a gourmet hunter, Toriko tracks and defeats the tastiest and most dangerous animals with his bare hands.

Featured Article

The Salamander Sphinx is the ruler of the Gourmet Pyramid, found very deep down in its lowest levels. As such, it is an extremely powerful fighter, with Toriko and Zebra having to work very hard together to take it down and effectively using up all of their energy in the process.

...Read more
Toriko Sites
Anime
Manga
Games & Merchandise
Other
Latest Affiliations
Want to affiliate with us?
If you would like to become an affiliate of Toriko Wiki contact us.
Loading chat widget...
Toriko Fanon Wiki
The official Toriko Fanon community, where you can create your own beasts, ingredients, characters, story and more!
Featured Music
Movie OST Theme 31: Acacia no Special Menu
Footer
Upcoming Anime Highlights